What is WindChill Engineering?
WindChill Engineering is a leader in Data Center Air Flow containment solutions. Utilizing the best in cutting edge industry standard airflow containment technology we provide the solutions you need.
As demands within the Data Center industry have evolved, the need to effectively manage costs and efficiencies have increased drastically. An inefficient Data Center wastes money.
WindChill Engineering provides the cost effective and efficient Data Center airflow solutions you need. Our products will save you money, provide a short return on investment, and help extend the life of your IT equipment.
In short, WindChill Engineering will increase your Data Center cooling efficiency and profitability.
What is Data Center Containment?
Containment is isolating and channeling airflow in hot and cold aisles utilizing doors and panels at the end of, between, and on top of cabinet rows. Containment is the most effective method of redirecting air flow.
A typical data center provides 60% more cooling than necessary to adequately cool the servers and eliminate hot spots, resulting in high energy costs. Airflow Containment prevents the mixing of hot and cold air and directs the conditioned air to the servers and the hot air back to the crack unit. Airflow Containment provides several key benefits, and depending on the customers' needs these purposes will be weighted differently.
Key Purposes of Containment:
Eliminate hot spots
Right size infrastructure
Reduce operating cost through higher efficiency
Increase cooling temperature
Eliminate moisture removal requirements
Increase efficiency of CRAC units
Increase security using locking doors and rigid containment
Improve aesthetics
Both hot and cold aisle containment utilize doors at the end of the rows, but they differ in that hot aisle containment typically utilizes walls above the cabinets to channel the air back to the return unit (Figure 2), while cold aisles are capped to create a pool of cold air (Figure 1).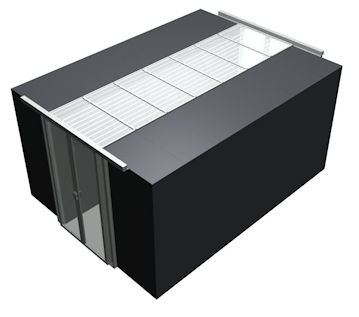 (figure 1)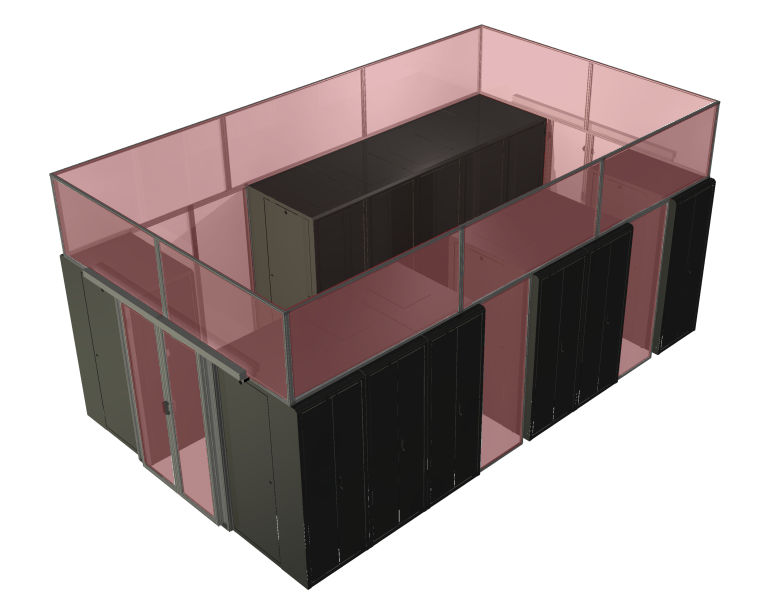 (figure 2)
2. What are your products made of and how does this meet or exceed fire code requirements in data centers?
WindChill provides three product categories, often used together, to help maximize the efficiency of a data center: rigid containment, soft containment, and gap fillers.
WindChill rigid containment is made of sturdy aluminum and NFPA rated clear polycarbonate paneling. WindChill rigid containment meets all ASHRAE and NFPA requirements for fire safety. Rigid containment provides the best seal around an aisle and enhances the look of a data center.
Soft containment is made of a clear vinyl material that is hung like curtains from the ceilings. It is an economical alternative to rigid containment. While not as effective as rigid containment, soft containment still provides the benefits of eliminating hot spots and increasing efficiency in data centers. WindChill soft containment meets NFPA standards for drop to allow the fire suppression system to operate.
Materials Spec Sheet (See product pages for more details)
How much is a standard installation?
Each installation is custom. Call us for details here:
office: 888.573.4144
local: 801.494.2098
What is Airflow Containment?
Airflow Containment makes your data center more efficient by channeling your cold air to where it is needed and thereby reducing wasted energy. Airflow Containment also prolongs the life of your equipment by maintaining safe operating temperatures.
Why should I get containment in my data center?
Containment is the most effective way to keep hot air and conditioned air separated. In a data center without containment, the hot air naturally rises towards the ceiling, creating air currents that mix hot and cold air compromising the efficiency of the cooling system. By isolating the hot and cold air through the use of containment, hot air is directed back to the cooling system and cool air to the servers. This enables higher set points units, eliminates hot spots, lower fan speeds, and can often eliminate the need for one or more CRAC units in larger data centers. In most cases, containment pays for itself in under three years.
Is my data center efficient?
Chances are you're wasting money!
Our specialized technicians can analyze and tell you if your data center is efficient and show you how to maximize your efficiency.
Up to 50% of a data center's energy bill can be tied directly to providing cooling for IT equipment. It requires a great deal of resources to ensure your IT equipment is operating within suggested parameters.
It is estimated that 60% of the cool air supplied by CRAC air conditioning units never reaches the intended IT equipment through leaks or bypasses. In the past this problem has been addressed by over-cooling the entire IT environment and has resulted in wasted energy, unncessary costs and lost data center capacity.
What's the answer to solving my data center inefficiencies?
Air flow containment systems!
Air flow containment can result in a big return on investment. As chilled air is contained and channeled into the IT equipment, it increases the efficiency of the air flow system in reaching the intended equipment. This efficiency allows data center managers to increase the CRAC air conditioning unit set points and regain lost capacity
The Department of Energy has shown that data center managers can save 3 to 7 percent of monthly energy costs for each degree of upward change in these points. Proper air management can also result in a 75% fan energy savings.
What is GapHOG and what will it do for me?
GapHOG's products keep chilled air from escaping into odd spots where it is not used (such as above, below and in-between data center hardware or into hot aisles through data center flooring). You may be losing a few thousand dollars each year in electrical charges due to these "leaks" in your system. A few thousand dollars of savings each year may well be worth the investment in GapHOG's products.
The money you spend on GapHOG products comes back to you year after year through improved airflow circulation, which means lower energy bills.
How does the Melt Away roofing work in case of a fire?
These panels are designed to work with either water or chemical based suppression systems. Should a fire suppression system engage due to a fire, the Melt Away roofing system will shrink and fall to the floor allowing the suppression system to extinguish the fire.
What do I need to design and quote a containment solution?
WindChill creates custom containment specific to each job. We provide a simple Quote Guide and work sheet to help make sure the right information is gathered to provide your customer with the best solutions. For more complex jobs with uneven cabinet heights, obstructions such as pillars and ladder racks, and open spaces between cabinets, send us a layout of the data center, and we will help you design the solution. Our salespeople have all been in data centers and helped with installation and understand how to build robust containment solutions.
Which is better, Hot Aisle or Cold Aisle Containment?
Hot aisle containment isolates the return air and directs it back to the cooling unit. The rest of the data center essentially functions as a 'cold aisle'. The primary advantage to Hot aisle containment is the warmest air is returned to the cooling unit, maximizing effieciency. The disadvantage is by isolating the hot air, there is a larger area to be cooled, slightly increasing cooling temperature requirements. Cold aisle containment traps and creates a pool of conditioned air by capping the top and ends of the aisle. The rest of the data center functions as a hot aisle. The primary advantage to cold aisle contaimenment is the cool air is directed to the servers, minimizing the risk for hot-spots and reducing the space to be cooled. A disadvantage is a warmer working environemnt, and less efficiency in recycling air. Which option is best depends on several factors including size of the data center, obstructions, cooling hardware and design, ect.